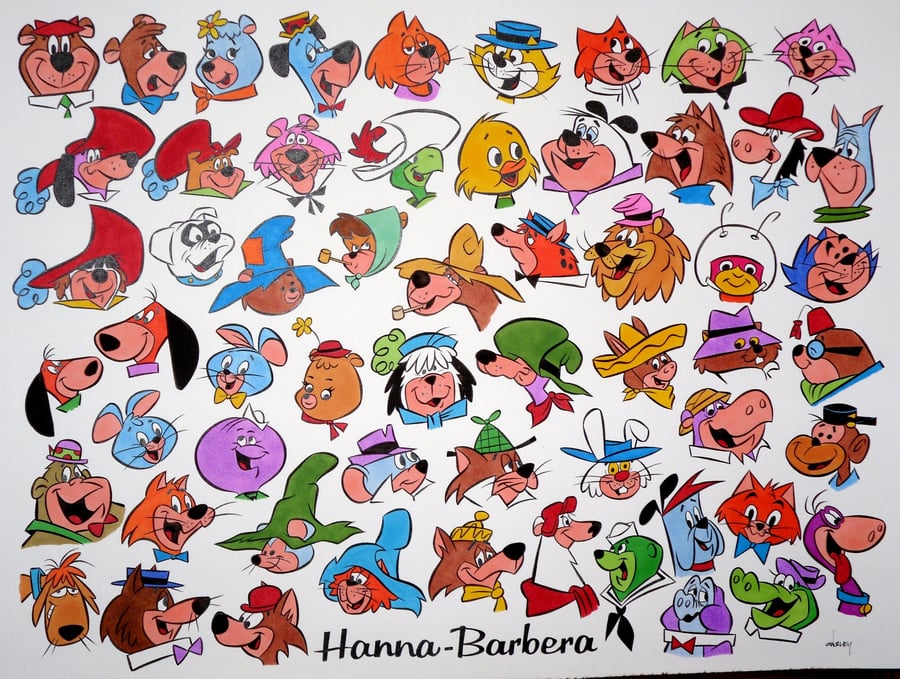 HANNA-BARBERA TV STARS 19.5x25.5 ORIGINAL ART RE-CREATION
$

499.99
I'm offering my sensational full-color, 19.5x25.5 re-created art featuring 58 of your favorite Hanna-Barbera cartoon TV pals, called "HANNA-BARBERA TV STARS". "HANNA-BARBERA TV STARS" will be created with Copic markers, Sharpies, brushpen, pen and ink on Canson art board. This re-created original artwork requires a 20 BUSINESS day completion, shipping, and handling time.
This wonderful art features YOGI BEAR, BOO BOO, CINDY BEAR, HUCKLEBERRY HOUND, TOP CAT and his gang (BRAIN, BENNY THE BALL, FANCY-FANCY, CHOO-CHOO and SPOOK), THE GOOFY GUARDS (YIPPEE, YAPPEE and YAHOOEY), SNAGGLEPUSS, TOUCHE TURTLE and DUM DUM, YAKEE DOODLE, CHOPPER, FIBBER FOX, QUICK DRAW McGRAW, BABA LOOEY, ASTRO, BANDIT, THE HILLBILLY BEARS (SHAG RUGG, MAW RUGG, PAW RUGG and FLORAL RUGG), LIPPY THE LION and HARDY HAR HAR, ATOM ANT, AUGIE DOGGIE and DOGGIE DADDY, PIXIE and DIXIE with MR. JINKS, RICOCHET RABBIT and DEPUTY DROOP-A-LONG, SECRET SQUIRREL and MORROCO MOLE, MAGILLA GORILLA, SQUIDDLY DIDDLY, SNOOPER and BLABBER, PETER POTAMUS and SO-SO, PRECIOUS PUPP, HOKEY WOLF and DING-A-LING, PUNKIN' PUSS and MUSHMOUSE, LOOPY DeLOOP, BREEZLY BRUIN and SNEEZLY, RUFF and REDDY, ALFIE GATOR, WALLY GATOR and DINO!
I won't be offering this original artwork for much longer...if you're interested, I would highly suggest you act and purchase this gorgeous HB art now. Your HANNA-BARBERA TV STARS original art re-creation can be dedicated and signed as directed. Please leave me a note with instructions at Checkout.